software development
We're a software and database design company, specialising in MS Access and MS SQL Server. We design custom software and database applications, using VBA and Visual Basic .Net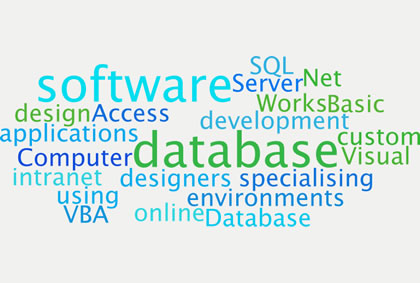 Bespoke database software
We design and develop custom software and database applications for small and medium-sized businesses in Sussex and across the UK, using:
Visual Basic for Applications (VBA)
Visual Basic .Net (VB.Net)
We're specialists in bespoke Access and SQL databases.
Your unique business needs
Whatever job the software needs to do, our first step is understanding the problem you face and what you're setting out to achieve. We'll suggest software solutions and demonstrate how they could improve the way your staff and your company works.
Next, we'll write a detailed system specification and agree the shape of it all with you. This is the document we'll work from in constructing your new system.
As we develop your bespoke software, we'll regularly show you the work in progress and check it's meeting your expectations at every stage. When the software's complete, we'll train your staff and provide continuing support and maintenance.
A continuing relationship, 10 years on
We have worked with many of our clients for a long time. They know they have skilled support for the custom software they invested in, and they value that security.
The Mary Ward Centre is a specialist college providing adult ediucation in central London. Here's what Robert Mcintosh has to say about his experience of working with us:
"In 2004, we approached The Computer Works to develop a system to manage student applications and replace our cumbersome paper-based system. We knew the main functions we required and had some idea of some of the forms we would need.
"TCW sent us a detailed overview of the database and a quote, which we accepted. A test version was installed to confirm our requirements had been met and that our routines were fully incorporated. The database has functioned without a hitch.
"In 2010, we commissioned TCW to extend the scope of the application. As before, we received a quick and reliable service. They have also supported us in 2013 as we upgraded our hardware and software. The database is still working fine. "

Robert Mcintosh - Mary Ward Centre
The Computer Works has been an ideal IT partner. They interpreted our business requirements to the letter, and ten years on their development has stood the test of time. We retained them because they understand our business, and continue to work with us to enhance our computer systems."
RMT
Executive Chairman
Talk to us about your plans. Email us or call us on 01825 840 446 for free, friendly advice.
The Computer Works are software developers and database designers based near Lewes. We work with businesses in Brighton & Hove, Eastbourne, Crawley, Tunbridge Wells and across Sussex, Kent and the South.