Hello.
We're a database development and website design company. We mainly work with SMEs. Our custom software helps them manage their companies efficiently. Website design and marketing bring in business for clients.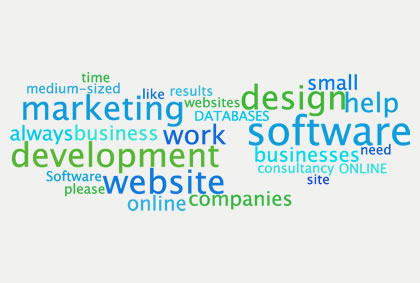 The internet gives small and medium-sized companies a great opportunity to boost their sales – yet only a third of them have their own website. Many don't have the time or expertise to get real results from the web.
But having a site is just the first step. To be successful, a website must be managed, promoted and updated regularly.
Company websites need visitors who become customers – and this doesn't happen by chance.
Standard software packages (SAGE, Microsoft Office, Excel etc) work well for most admin functions. But sometimes off-the-shelf solutions aren't available and clients need software written for them.
We write custom software and database applications specialising in MS Access and SQL Server, using VBA and Visual Basic.NET.
Our starting point for every project is always: What does the business want to achieve? What are the problems we can help solve?
We understand how technology can help a small business and we're always glad to chat. Calling us could help with your plans. We promise to stick to plain English and avoid computer jargon.
Based in Lewes, near Brighton, we work in Sussex and Kent with clients in Crawley, Tunbridge Wells, Eastbourne and across the South.
Clients value knowing we're not too far away. Arranging on-site meetings to discuss business requirements is easy.
Talk to us about your plans. Email or call us on 01825 840 446 for free, friendly advice.
The Computer Works is a software development, website design and online marketing consultancy based near Lewes. We work with small and medium-sized businesses in Brighton & Hove, Eastbourne, Sussex, the South-East and throughout the UK.